Garden Design Services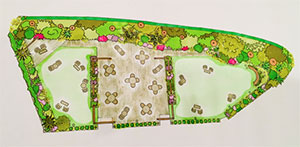 I offer inspirational help and creative ideas by formal discussion as well as concept and detailed garden planning. (Visits over 20 miles from Poole mileage fee charged)
Client Brief
A client Brief is a detailed discussion to ascertain all the client wishes and requirements and budget.
From a specific theme, feature or style to the use of the garden space such as where to place the wheelie bins or washing line!
From this brief the client may be happy to carry on and do the work themselves or if desired a simple concept plan (2D) can be drawn up following a basic survey if required.
If a more detailed/complex design is required then a full survey and detailed, annotated plan can be produced. (The survey can be carried out by the designer or a surveyor depending on complexity and constraints of site.)
Mood/theme boards can also be created to illustrate specific ideas and themes such as cottage, oriental, courtyard, cottage, contemporary to wildlife and woodland etc.